Make: ARES
Gun/Model: RAS2 long
Accessories: TM red dot, one hi-cap magazine, 9.6v 2300mAh battery, 3 rail covers and upgrades
Condition: v.good
FPS: 340 with m110 spring, 400 with original spring
Splits/Swaps/Part Exchange: try me
Price/Payment: ??? open to offers
Pictures:
Bought this not long ago off the forums however it had a dodgy gearbox which miss fired multiple times and was cracked, it needed to be replaced so bought a brand new one (fired a couple of times to test) made by ARES and is the exact one needed. It has a micro-trigger, from what i heard it has a different trigger mech which is better in my opinion as you don't have to pull the trigger as far as normal m4 triggers. The gearbox has a great design that allows you to quickly change the spring without opening the gearbox, i have fitted a m110 spring which shoots at around 340fps consistently as the original gearbox had a large powerful spring which shoots at around 400fps (from what Ive heard and seems very true) so putting a more friendly spring was mandatory in my case however i will include to add the original spring if sold. Ive also fitted a g&p m120 motor which gives a great, consistent ROF at around 22~bps on the 9.6v battery, also fitted is a TM hop rubber which gives outstanding range and accuracy making this rifle an amazing bit of kit. I have bought a TM (owner stated) red dot sight with an ''off set'' mount which looks and fits the gun great. Also has one flip up cover for the sight as the second one was lost.
Any questions, do please ask.
PM me for a faster response.
Will two tone if necessary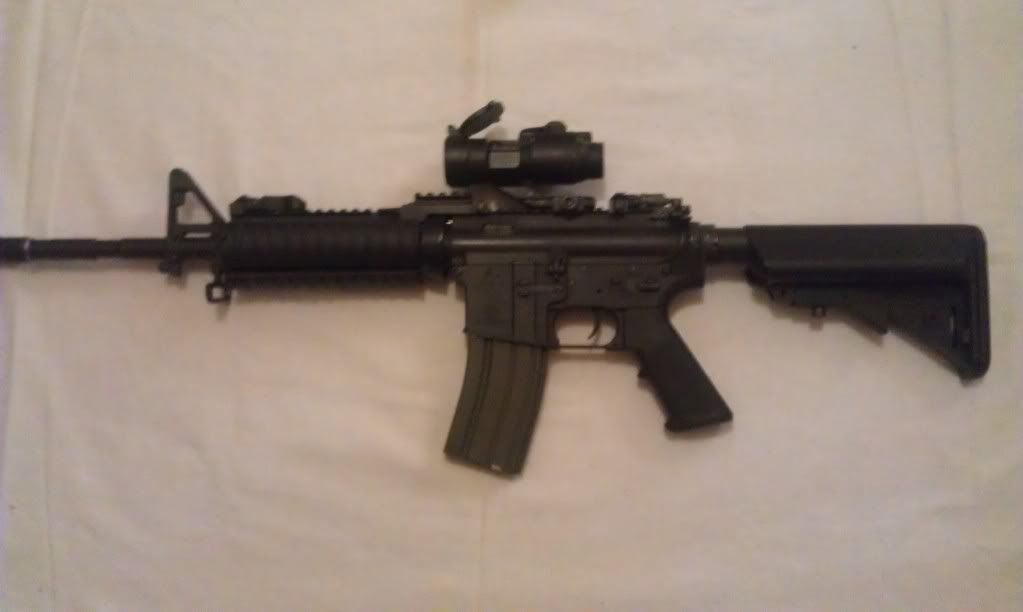 Showing the Mr Yuck face on the flip up cover...