Hi All,
I am selling the last of my airsoft gear. I have 3 guns, all in good working order. All must go, please feel free to pm/email any questions. Emails are preferable you can get me on MattLBlount@hotmail.com
Thanks for looking
Make:SOLD
Gun/Model: Full Metal HK416 2009 model
Accessories: Silencer, telescopic bi pod, sure fire tac lite with spare batteries and charger, eotech scope (broken butstill looks cool), 4/5 Hi Cap Mags, Sling, 2 good quality crane stock batteries, good quality fast/slow charger, Guarder rifle case.
Condition: Excellent
FPS: 300-320
Splits/Swaps/Part Exchange: none- cash only offers please
Price/Payment: £280 ovno
Pictures: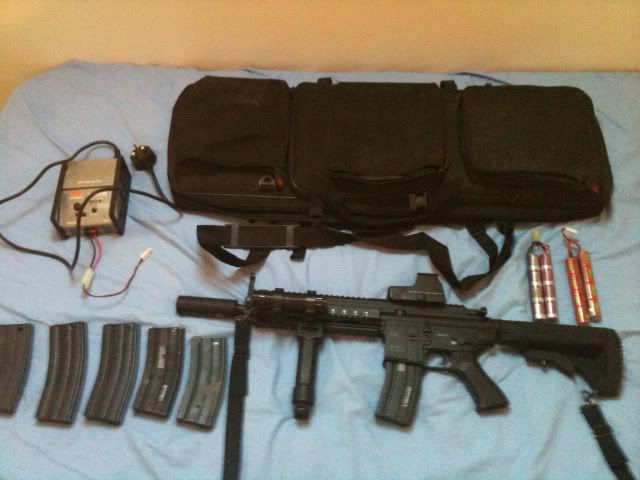 Make: JG
Gun/Model: M733 Plastic (Black hawk down)
Accessories: TM Silencer, aimpoint scope, hi cap mag, camo paint job
Condition: Very good
FPS: 320-350
Splits/Swaps/Part Exchange: none- cash only offers please
Price/Payment: £90 ovno
Pictures:
Make: SOLD
Gun/Model: Baby Hi Cappa
Accessories: 2 mags (1 is leaky)
Condition: Very good
FPS: 250ish
Splits/Swaps/Part Exchange: none- cash only offers please
Price/Payment: £50 ovno
Pictures: