Make:
Tanaka
Gun/Model:
M700 A.I.C.S upgraded (with custom barrel)
Accessories:
1x gas tight g&g power pack magazines, sling, bipod, silencer, ghillie loops.
Condition:
Used, good, well looked after, see below.
FPS:
480fps (green), 500fps (propane), adjustable with pcs bolt (300-700)
Splits/Swaps/Part Exchange:
No, Possibly, Maybe from your end.
Price/Payment:
£430.00 + postage via bank transfer or paypal ono!
Pictures:
Below
Okay guys, needing to sell my baby as got a new gun that needs upgrading, and could also do with funds in my account!
This was ovany's old tanaka, and i picked it up on the forums not too long ago, since then I've used the rifle around 4times and absolutely loved it, and it really will be a shame to see the beast go!
Okay, so onto the gun, internally she's as upgraded as you can get! The list is below...
- Adjustable PCS bolt
- king arms vsr pax hop up kit
- firefly vsr bucking
- laylax 6.03 barrel
The gun comes with 1 magazine, it's gas tight, leak free, and is fitted with G&G powerpacks making it much more consistent, that's already £120 worth of kit just from the mag!
External she's also a beaut! Since its the 'AICS' model, it comes with the 'L96' stock, which is in olive colour, and feels much better than your bolt action l96, better build quality etc. It's literally just been fitted with a brand new reciever as the previous one was damaged, I've also fitted a nut and bolt at the front of the gun to hold the barrel much steadier, it won't move! It's also fitted with an OD sling secured tightly to the gun, and also a king arms harris bipod can be included, which has adjustable length legs. The gun looks absoulutley awsome with a leupold m3 scope also!
Now down to the unique part of the rifle! It's fitted with a custom 'SR25' outer barrel, which again is another very rare item which is no longer made, you'll be lucky to find one like it! An SR25 QD silencer is fitted on the front as shown in the pictures.
The gun has been very well looked after, and after every games I've cleaned it, re-greased all the moving parts with high quality lube, and cleaned the barrel, you must do this to keep it in full working order! Due to it being gas, it's very easy to cock, and to chamber the next BB, you need to pull the bolt back just 1inch and it's done! Much easier than your spring boltie! Right, the only problem with the gun is, on the hop unit there is a threaded hole where it is secured onto the stock, however carelessly i messed this thread up when screwing it back together after disassembly, so the screw goes in on an angle, meaning it isn't fully secured onto the reciever, it ain't gonna fall or off or anything like that, however it mean the reciever is veerrry slightly, and i mean very (it's hardly noticeable), angled to the left, this could mean sometimes the BB will stray off to the left (not every bb don't worry!). However this is a pretty easy fix, the hole just needs re-tapping (which ain't hard if you have a tap and die kit! or you could take it to a local workshop, or maybe even hardware store, however I'm currently looking for a tap and die set, so if i get one soon I'll fix it before its sent out!
I've found the gun works best with .36g bb's, anything more and the hop just isn't effective enough, however on a non-windy day/in perfect weather conditions, it will be awsome on .3g's! Also for a little extra i can include 1200 brand new .3g bb's.
Once you've got the scope zero'd, and the hop set perfect, your gonna have a beast of a sniper rifle, previous owner on a perfect day managed to get 90m hits, which is damn decent for an airsoft gun! And with the noise it makes (virtually none!) and a custom made ghillie suit, you'll be picking those enemies off like flies!
Pictures!
With a m3/4 scope, silencer, harris bipod, sling, and mag.
sr25 silencer.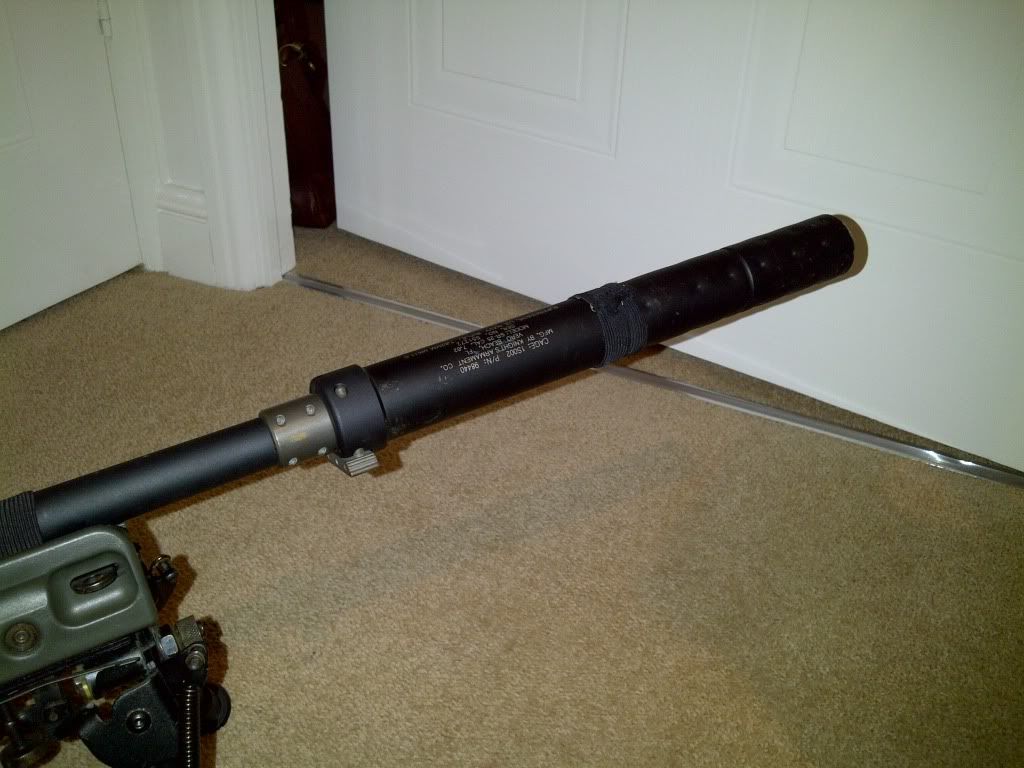 and one without scope...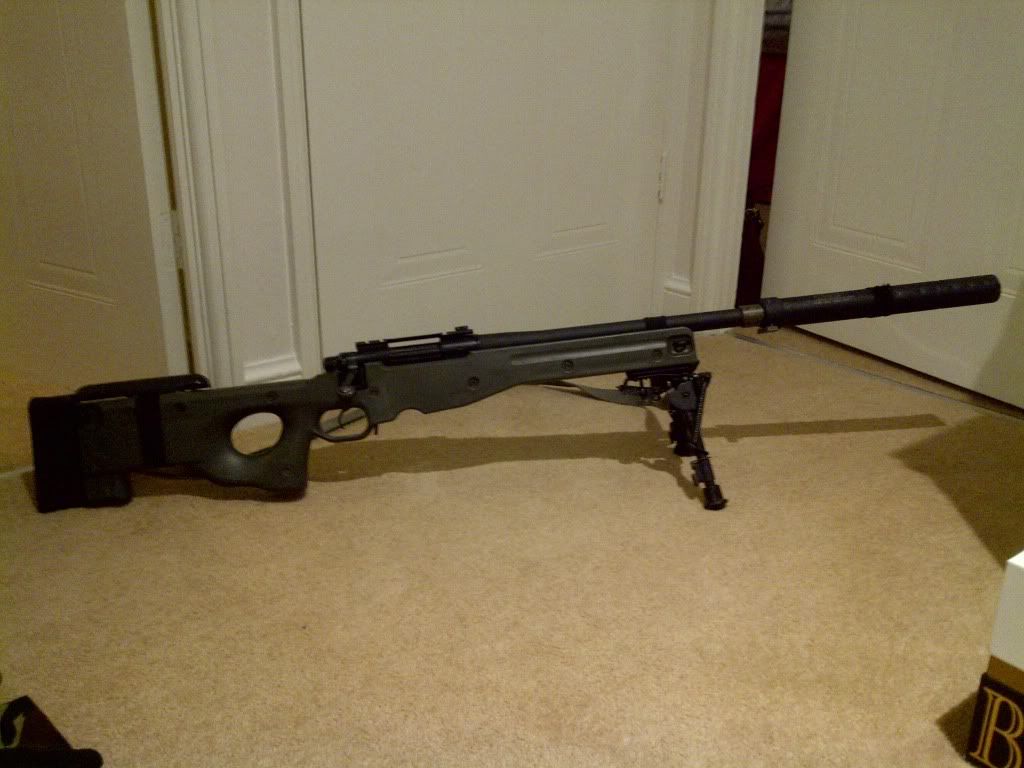 and one for good luck...
Right, so that's pretty much everything i can think of! Sorry if i bored you to death lol! Down to price, swaps etc.
Okay, so I'm asking for £430.00, this may sound alot, so the price is certainly negotiable, however you'll be very lucky to find a rifle just like this one! Postage price must be covered by the buyer, but this can be worked out once we're sorted on a price, it will be around £30 via next day insured, i would prefer bank transfer as payment method, however paypal will do, but you must cover the fee's yourself!
I will also consider splitting the bipod, however since it's a quality made king arms harris, i'm asking for £40.00!
SWAP/PARTEX.... Ok guys, got a few things that may interest me, so look carefully!
- G3SG1 or an M14 EBR (both are for DMR setup, so if currently at 420fps, even better!)
- Magpuld M4 (pref Tan with UBR stock, standard ris would be okay)
- M249!!!! Either full or para stock, no stock a&k, upgraded would be even better.
- any GBB pistols (or an mk23 soccom)
- M4 for DMR rifle (so long as ris is over 9inches and is freefloat/doesnt need front sight to hold together)
- Bolt action sniper rifle, VSR10, CA M24 etc. (again upgraded is much better)
But please, offer me what you have as i may also consider it!
SO that's it guys! Hope you enjoyed viewing it lol! Please feel more than free to PM me with any questions, offers, or if you need more pictures etc.!
Thanks again, Josh.