Make: G&P based, Magpul and Guarder components.
Gun/Model: Custom A2 'Blood Diamond' compact AR-15.
Accessories: Guarder Aimpoint M2, Guarder Aimpoint Rail, Solarforce L2 flashlight, custom 'integrated' flashlight mount. Guarder butt pad. G&P Car 15 suppressor. 4 Classic army mid-caps
Condition: Good, has been recently serviced and had an AB mosfet fitted by Ali.
FPS: doing 300, has an SP90 spring installed.
Splits/Swaps/Part Exchange: Guarder Kitted Desert Eagle, RPG, revolvers, side arms, M93r, SAA, 1911, custom pistols. Mainly looking for nice side-arms. Offer away!
Price/Payment: £350 posted and paypalled.
Pictures: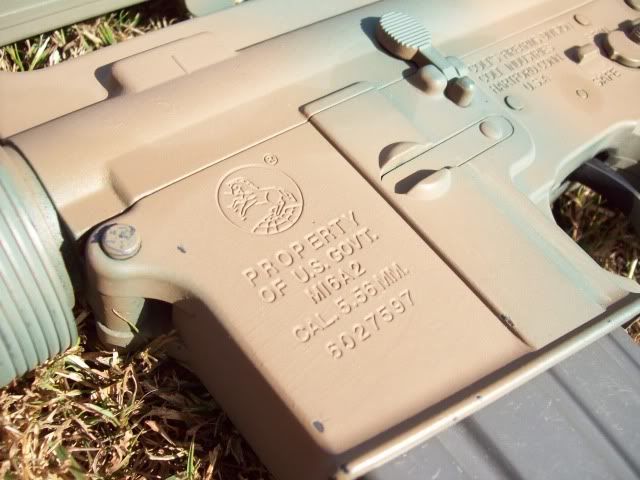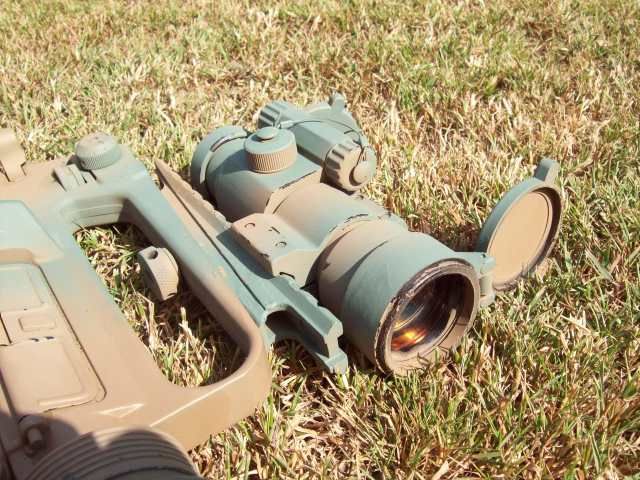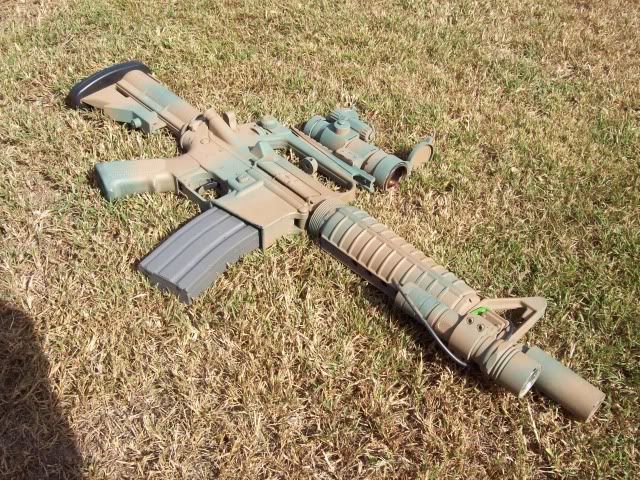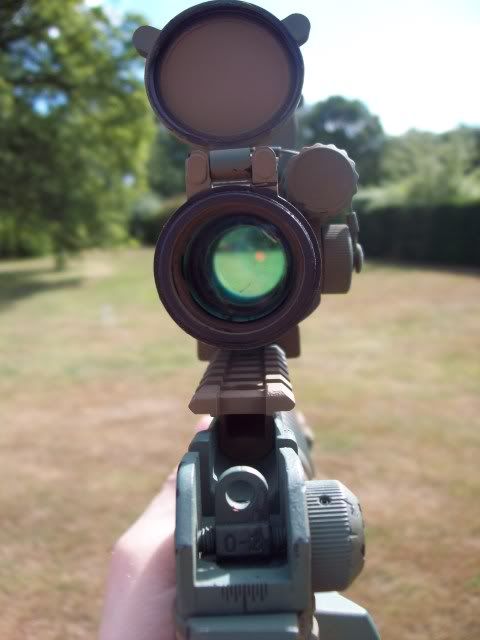 The gun looks ALOT darker in real life. The camera makes the paint look really bright for some reason.
Original gun in film:
Background
It consists of the following parts all brand-new when built apart from the XM parts.
-G&P M16A2 metal body. New £75.
-G&P XM177 outer barrel,XM inner barrel, front sight, D ring and handguards. 2nd hand but these front ends go for around £100 imported from asia. Inner barrel roughly about £20 new.
-G&P retro four position carbine stock. New around £30.
-G&P CAR 15 noise reducing flashhider. New from asia, about £20.
-G&P V2 Gearbox. New about £80+
-G&P high speed motor. New about £20+
-G&P hop unit. New about £15+
-G&P A2 pistol grip. New £15+
-G&P stock tube. Not sure new.
-Magpul PTS one point sling plate. New £15.
Comes with the following screen-accurate optic setup:
-Guarder Aimpoint M2. New £90.
-Guarder Aimpoint replica rail. New £15.
Also has the following screen-accurate torch setup. This is totally custom and involved a LOT of filing. Pressure switch is velcroed to the handguard but easily removable to change battery.
-Solarforce two-piece barrel mount. New £8
-Solarforce L2 torch. New £20
-Solarforce Pressure switch. New £11.
I'd estimate this cost about £550 and a fair bit of work to put together new. This was put together with great care over a good few months, the paintjob is humbrol paint and should be removable with white spirit and a good scrub, and the torch setup is totally custom. All parts internal and external apart from the XM front set, hop and barrel were brand new when built. It's been used by me and others in up to a dozen game days, it's barely missed a beat and has been recently serviced with an AB mosfet fitted and wired for deans and 16awg wiring.
The setup is highly manouvrable, has great range for such a compact package (it's not much longer than an Mp5), and the light setup is totally unobtrusive but very bright. Very high ROF. Very Accurate.
The G&P internals are great. Very fast rate of fire on 9.6v. Very quick trigger response. The 130 round mid caps can be emptied in seconds on full auto. This gun is a great performer with reliability to match. The range and accuracy is particularly good. The only range i have is exactly 20 meters. You can hit a 4 inch target every single shot at that range.
Swapping for mainly side-arms with magazines and russian kit. SVD scope would be nice. A nice shiny full metal 1911 would be nice. Top of the list would be either a Guarder kitted chrome desert eagle or an RPG.
Also interested in Tanaka SAA, Beretta M93r, Makarov, most revolvers, Real sword T-56 mid-caps, V3 gearbox, FAL, G3 with wood kit, SLR, Galil, AK74/74u, Thumper with shells, Most RPG shaped things (LAW).
Thanks for looking.
spartacus