DPM South African Assault Vest (SAAV) made by Kombat
(images from Flecktarn.co.uk)
This vest is great. Well built, comfy (it feels more like webbing than a Assault Vest) pockets for everything and most importantly for a first buy CHEAP.
The vest is great it has 4 double M16 mag pouches (you would be VERY hard pushed to get anything else in here but 1 AK or AUG mag might fit), 2 on the shoulders and 2 on the kidney pouches. 2 grenade pouches next to the shoulder ammo pouches. It has 2 large kidney utility/dump pouches, these have a small flap on top that means you can put used mags in without needing to undo the pouch. 1(2) Large rear pouch that can be used as 1 long pouch for a Hydration unit or as 2 pouches for carrying things (waterproofs, etc...). The on the front, bottom left hand side on the vest in the pic, you have what appear to be 2 ammo pouches. These are VERY hard to get into with all the other pouches full, I put my speed loader in there as I wont be needing it in a firefight but putting mags in there would be a bad move IMO. Then lastly you have a reasonably sized utility pouch on the bottom right side for whatever you have left (spare battery?). . . . . . . I forgot the easy to miss map pouch behind that, but it is quite small and very easy to miss, as yet I have to find something to put in there.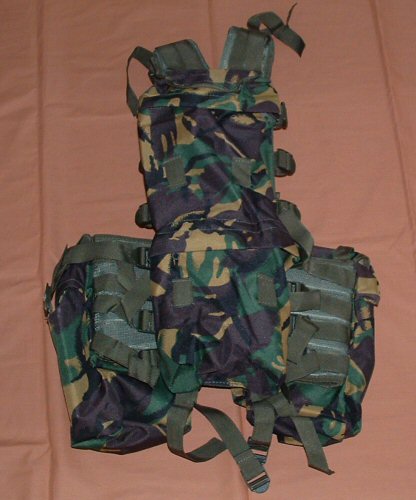 The quality of this is great. Strong and Sturdy. Made of Nylon (so the website says) and is 100% water proof (so don't leave the the pouches open when its raining as there are no drainage holes). It is fully adjustable from REALLY skinny (I'm a 28 inch waist) to quite a lot bigger than me, and the shoulders are adjustable too.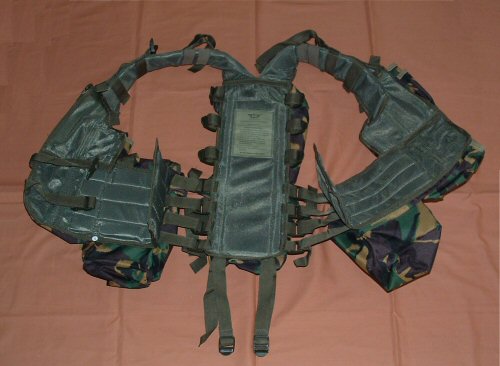 As the first piece of webbing/assault vest I have its great. Ideal for a new starter on a budget (and veterans who want a cheap piece of kit). The only couple of small niggles I have are the mag pouches are quite tight and so they can be a little slow to access and the "mag" pouches on the left hand side are a PITA to get to even when the vest is off or empty.
Overall rating:
9/10 (after all NOTHING is perfect)