Ok guys, I'm selling off a few spare bits and pieces knocking about from my other projects. I'm fed up of seeing them floating around, hence the very fair prices. Please let me know if any of these interest you.
1. Noveske free float m4 R.I.S kit.
Ok these are quite hard to get hold of and aren't cheap. It's in great condition, and only a few months old! Comes with all the parts and mount directly on the threads under the standard delta ring. As far as im aware it fits an ICS, so it will fit any thing.
im asking £80.00 pick up
or £85.00 posted.
2. Noveske sound hog.
This is a great bit of kit that makes your gun sound like a wood pecker, as far as im aware it fits any 14mm neg thread, but you can also get different thread attachments for it. This piece of kit has been well used and has the usual scratches, but its still in pritty good shape.
im asking £25.00 pick up
or £28.00 posted.
3. MAGPUL MOE stock for M4A1.
This has been heavily used but is still in great condition as tan, but it has been resprayed in krylon OD. There are a few paint chips but it looks fine, the only observation I have is it's a little tight on ICS stock tubes, but it seems to fit other brands just fine.
im asking £20.00 pick up
or £25.00 posted.
4. MAGPUL MOE pistol grip for M4A1.
This is in brand new condition, has only just been fitted and never really been used. This is in OD and has not been painted at all and is only around a month old. It will fit any make of M4A1 and fit to your hand very comfortabley.
asking £15.00 pick up
or £17.00 posted.
5. Layax battery sling.
Ok, this is a sling made to house a large battery if you have a front wired gun. It fits perfectly with a small tamiya connector and a large tamiya to receive the battery, very handy and very easy to use and change batteries on it.
It's in great condition and is fully adjustable to fit anyone.
im asking £25.00 pick up
or £30.00 posted.
6. x2 Large 9.6 batteries.
Ok, both have been heavily used, but are still going strong, never had a problem with them, and they are very well looked after, still in great condition and both have large tamiya connectors.
asking £20.00 each or both for £35.00 pick up
or £25.00 each or both for £40.00 posted.
7. Upgraded Dboys ver 2 gearbox (M4A1).
This is a upraded Dboys gear box, most of it is stock how ever the spring has been changed out for a systema 1J and the piston is a Sytema aswell and also has metal brushings. This is rear wired because its from a M16 but the wiring can always be switched around if needs be, it has been
well maintained and very lightly used.
asking £55.00 pick up
or £60.00 posted.
Here is a picture of the few listed parts on a gun. Any questions please dont hesitate to ask.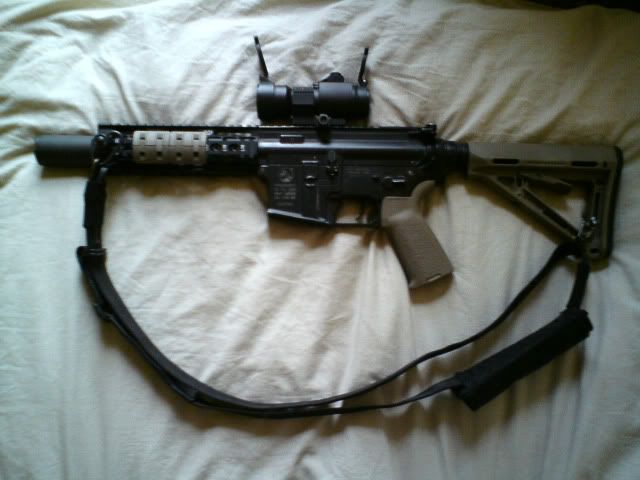 If required, please ask for photos of specific parts.